Vacation Bible School 2021
Registration is NOW OPEN!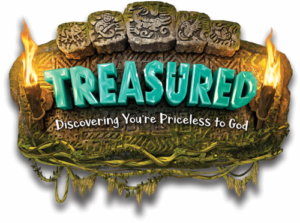 Join us for a 3-day adventure as we discover God's greatest treasure-us! Each day will be an adventure through Bible stories, filled with games, gadgets, song, and dance as we praise God! VBS will take place in person, we will observe social distancing and masks during the duration of our VBS time together.
*Not yet ready to be back in-person?* Consider joining us virtually! Each virtual participant will receive a pack of activities, gadgets, and gifts that can be used at home. Our Opening and Closing sessions will be available on our Youtube page.
Questions? Contact the Parish Office at 502-451-3860.
Event Details
Dates:  Monday July 19th- Wednesday 21st, 2021
Time: 6:00PM-8:00PM
Where: Ascension Catholic Parish
Cost: Early Bird Registration (May 1st-June 15th)-$13 per child
AFTER EARLY BIRD Registration (June 16th-July 19th)-$15 per child
Optional Dinner is Available! Dinner will be provided each evening from 5:30PM-6:00PM for participants and volunteers before the VBS program begins. Each dinner is $5 per person, you may purchase your meals  here! 
Interested in Volunteering or Donating?
To make this a successful VBS, we need YOU! We welcome adults and high school youth to be crew leaders and to lead special areas such as our Imagination Station, Games, Song & Dance, and more. We invite our middle school youth to be assistants for our crew and special area leaders. To sign up as a volunteer, please CLICK HERE!
Would like to support our Vacation Bible Program through a monetary donation? If you would like to make donation to sponsor a child to attend and help cover the cost of materials used to make this a TREASURED event, please visit our WeShare page here. Thank you for your kind stewardship!