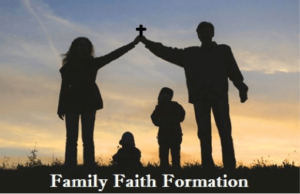 Family Faith Formation is a program of religious education aimed at the entire family. Pope Francis said it well that "Families are the domestic Church, where Jesus grows; he grows in the love of spouses, he grows in the lives of children."
Our Families of Faith Formation program intends to teach the faith by empowering parents to teach their children through prayer, formation, fellowship, and service with other Ascension families.
Our Schedule 2021-2022
This program is open from September through May.
First Sundays of the Month-Parent Only Session (childcare will be provided, if needed)
Third Sundays of the Month- Family Gatherings
Our first Families of Faith Gathering will be Sunday, September 19th from 6:30-8PM. Register below to RSVP or contact Tasha Gordon!
**If you are seeking sacramental preparation for your child for Baptism, First Reconciliation, First Communion, Confirmation, please register under the specific Sacrament under the Sacraments page.**
Fees
To help cover the cost of expenses of books, classroom materials, and supplies for community nights, we ask $50/family. If these fees present a hardship to your family, please contact Tasha Gordon!
For more information, contact Tasha Gordon, Director of Family Formation at 502-451-3860 ex. 15 or tgordon@ascension-parish.com.
Register below for Families of Faith!