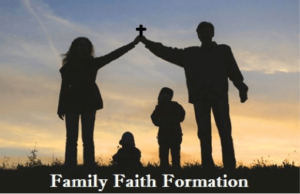 Our Family Faith Formation program is designed principally for families with children in grades 1-8. Children, accompanied by at least one parent, will meet once a month on a Sunday evening throughout the school year. 
Every session provides a meal for each family, a parent and a separate children session provided by trained catechists. A parent session will incorporate learning of a topic each month and ways to teach their children at home throughout the month through resources and materials provided by the parish. The children session will provide a fun activity that ties to the topic of each month that they can share at home with their family.
Schedule 2022-2023
Each session will be in the Ascension Cafeteria from 5PM-7PM
2022
September 18th
October 2nd
November 6th
December 4th
2023
January 8th
February 12th
March 5th
April 9th
May 7th
Sunday Mass & the Practice of the Faith: Participation at Sunday & Holy Day Masses, regular Confession throughout the year, daily prayer/devotions at home, and the practice of stewardship (time, talent, and treasure) are the essential first components to faith-formation. 
Monthly Family Faith Formation: We do not use a grade-level model, but rather we have adopted a model that allows families to learn together in small groups with other parish families. Families—at least one parent with children (grades 1-8)—will meet once per month at Ascension for 2 hours on a Sunday evening for Family Faith Formation. 
At-Home Lessons: It is critical that children experience the home as the principal place where faith is shared and practiced. Alongside the monthly Family Faith Formation, our curriculum (A Family of Faith by Sophia Institute Press) supplies a second lesson and fun activities for the home each month. We encourage the small groups from Family Faith Formation to get together on their own one other time during the month to complete the at-home activity. (If a family in the small group cannot meet with the others, it is possible to complete the lesson on one's own.)